t h e G R A Z I N G s h o p
Grazing Tables
Our decorative feasts will be sure to set the tone for a simply spectacular event and are intended to wow your guests, with an abundance of flavours and delights.
Starting from £390, our tables are available for 20+ guests. We charge a flat rate of £19.50 per guest, which includes delivery and set up of the board, as well as collection of the boards after use.
We require you to supply your own table and we ask it to be positioned in a cool area, away from direct sunlight. Once we have set up, we leave it in your capable hands, and we collect our boards and equipment in the following days. Please note, if you require plates etc we can supply these - see below for more details.
Fancy something sweet for afters? We can provide a dessert option as an add on to any grazing table for £7 per guest. See below for more information.
Selections may vary depending on availability of products.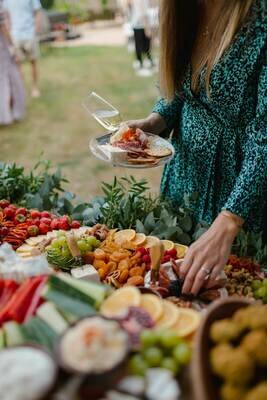 Grazing Tables
Hosting an event and looking for a way to WOW! your guests? Look no further.